Adafruit Feather / Featherwing Pinouts
Adafruit presented the Feather line of development boards1 some time ago and the number of available boards and addons (called FeatherWings) is still growing.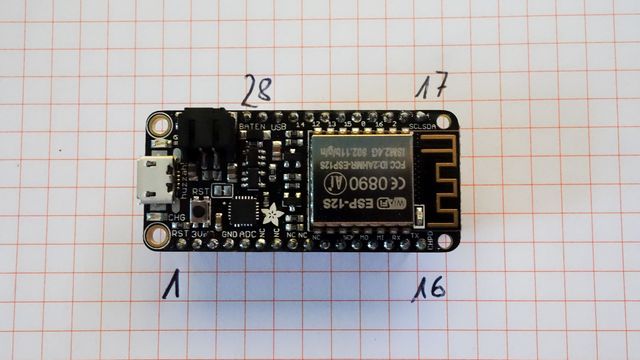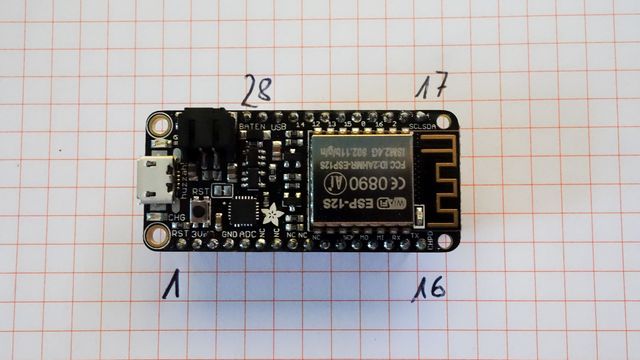 For each board, you can find an great documentation on Adafruit's Website including the pinouts. But when looking into the compatibility of different FeatherWings, I was missing a chart or table which lists all the used pins.
As far as I can see, there is no 'official' naming convention for the pins, therefore I just picked one which starts by 1 on the 3.3V pin and ends with 28 on the BAT pin.
Boards
Common pins
The following pins are always the same, no matter which board you are using:
| PIN | Label | Description |
| --- | --- | --- |
| 1 | RST | Tie to ground to reset AVR |
| 2 | 3V | 3.3V output, 500mA peak |
| 4 | GND | Common ground |
| 11 | SCK | SPI clock |
| 12 | MO | SPI master out |
| 13 | MI | SPI master in |
| 14 | RX | Serial receive |
| 15 | TX | Serial transmit |
| 17 | SDA | I2C data |
| 18 | SDL | I2C clock |
| 26 | USB | Voltage from USB |
| 27 | EN | Regulator pin, pull down to disable regulator (and the board) |
| 28 | BAT | Voltage from Battery |
Specific pins
| PIN | HUZZAH32 | HUZZAH ESP8266 | 32u4 RFM69 / LoRa | 32u4 Adalogger | 32u4 FONA | 32u4 Bluefruit LE | M0 RFM69 LoRa | M0 Bluefruit LE |
| --- | --- | --- | --- | --- | --- | --- | --- | --- |
| 3 | NC | NC | AREF | AREF | AREF | AREF | AREF | AREF |
| 5 | #26/A0 | #17/ADC | #18/A0 | #18/A0 | #18/A0 | #18/A0 | #14/A0 | #14/A0 |
| 6 | #25/A1 | NC | #19/A1 | #19/A1 | #19/A1 | #19/A1 | #15/A1 | #15/A1 |
| 7 | #34/A2 | NC | #20/A2 | #20/A2 | #20/A2 | #20/A2 | #16/A2 | #16/A2 |
| 8 | #39/A3 | NC | #21/A3 | #21/A3 | #21/A3 | #21/A3 | #17/A3 | #17/A3 |
| 9 | #36/A4 | NC | #22/A4 | #22/A4 | #22/A4 | #22/A4 | #18/A4 | #18/A4 |
| 10 | #4/A5 | NC | #23/A5 | #23/A5 | #23/A5 | #23/A5 | #19/A5 | #19/A5 |
| 11 | #5 | #14 | #15 | #15 | #15 | #15 | #24 | #24 |
| 12 | #18 | #13 | #16 | #16 | #16 | #16 | #23 | #23 |
| 13 | #19 | #12 | #14 | #14 | #14 | #14 | #22 | #22 |
| 14 | #16 | #1 | #0 | #0 | #0 | #0 | #0 | #0 |
| 15 | #17 | #3 | #1 | #1 | #1 | #1 | #1 | #1 |
| 16 | #21 | NC | IO1 | GND | Key/GND | DFU | IO1 | DFU |
| 17 | #23 | #4 | #2 | #2 | #2 | #2 | #20 | #20 |
| 18 | #22 | #5 | #3 | #3 | #3 | #3 | #21 | #21 |
| 19 | #14/A6 | #2/LED | #5 | #5 | #5 | #5 | #5 | #5 |
| 20 | #32/A7 | #16 | #6/A7 | #6/A7 | #6/A7/Fona RTS | #6/A7 | #6 | #6 |
| 21 | #15/A8 | #0/LED2 | #9/A9 | #9/A9 | #9/A9/Fona RXD | #9/A9 | #9/A7 | #9/A7 |
| 22 | #33/A9 | #15 | #10/A10 | #10/A10 | #10/A10 | #10/A10 | #10 | #10 |
| 23 | #27/A10 | #13 | #11 | #11 | #11 | #11 | #11 | #11 |
| 24 | #12/A11 | #12 | #12/A11 | #12/A11 | #12/A11 | #12/A11 | #12 | #12 |
| 25 | #13/A12/LED | #14 | #13/LED | #13/LED | #13/LED | #13/LED | #13/LED | #13/LED |
Special pins
Furthermore the following special pins are used:
FeatherWings
The following additional pins are available but not hard-wired and mostly optional:
Footnotes